Special abilities that can be added

Get PALRO to acquire the "special ability" you select.
PALRO's personality comes out even more as it acquires different kinds of "special abilities".
Here are some special abilities you can add.




How to add "special abilities"
(Download method)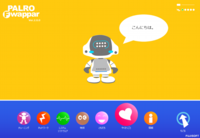 Select 【Special abilities】 from among the icons displayed at the bottom of the PALRO Fwappar screen.
From "'Seeds' I've found", select and tap the one you want PALRO to acquire, and it is added to its "special abilities".
New special abilities

Welfare Facilities for the Elderly Model
PRT-F050JW

Gift Model
PRT061J-W03

Dance

Omoide ga Ippai

♪
〇

×
PALRO dances to the song

Omoide ga Ippai.


Inquiries

Dance I LOVE YOU♪

〇

×
PALRO dances to the song I LOVE YOU.

Inquiries

Dance

Toki no Sugiyuku mamani

♪
〇

×
PALRO dances to the song

Toki no Sugiyuku mamani.


Inquiries

Dance

Zankoku na Tenshi no These

♪
〇

×
PALRO dances to the song

Zankoku na Tenshi no These.


Inquiries

Dance

Mataauhimade

♪
〇

×
また逢う日までPALRO dances to the song

Mataauhimade.


Inquiries

Dance Nagisa no

Sindibaad

♪
〇

×
PALRO dances to the song Nagisa no

Sindibaad.


Inquiries

Dance

Kazarijanainoyo Namidaha

♪
〇

×
PALRO dances to the song

Kazarijanainoyo Namidaha.


Inquiries

Dance

Omoide no Nagisa

♪
〇

×
PALRO dances to the song

Omoide no Nagisa.


Inquiries

Dance

Nandodemo

♪
〇

×
PALRO dances to the song

Nandodemo.


Inquiries

Dance

Sakura no Shiori

♪
〇

×
PALRO dances to the song

Sakura no Shiori.


Inquiries

Dance

Gakuseijidai

♪
〇

×
PALRO dances to the song

Gakuseijidai.


Inquiries

Dance

Hinageshi no Hana

♪
〇

×
PALRO dances to the song

Hinageshi no Hana.


Inquiries

Dance

Kosumosu

♪
〇

×
PALRO dances to the song

Kosumosu.


Inquiries

Dance

Aoi Hoshikuzu

♪
〇

×
PALRO dances to the song

Aoi Hoshikuzu.


Inquiries

Dance

Kitaguni no Haru

♪
〇

×
PALRO dances to the song

Kitaguni no Haru.


Inquiries

Dance

Seto no Hanayome

♪
〇

×
PALRO dances to the song

Seto no Hanayome.


Inquiries

Dance

Yogiriyo Konyamo Arigato

♪
〇

×
PALRO dances to the song

Yogiriyo Konyamo Arigato.


Inquiries

Dance

Akatonbo

♪
〇

×
PALRO dances to the song

Akatonbo.


Inquiries

Dance

Oshogatsu

♪
〇

×
PALRO dances to the song

Oshogatsu.


Inquiries

Dance

Konomichi

♪
〇

×
PALRO dances to the song

Konomichi.


Inquiries

Dance

Jugoya Otsukisan

♪
〇

×
PALRO dances to the song

Jugoya Otsukisan.


Inquiries

Dance

Toryanse

♪
〇

×
PALRO dances to the song

Toryanse.


Inquiries

Dance

Nanatsu no ko

♪
〇

×
PALRO dances to the song

Nanatsu no ko.


Inquiries

Dance

Tsugunai

♪
〇

×
PALRO dances to the song

Tsugunai.


Inquiries

Dance

Yosaku

♪
〇

×
PALRO dances to the song

Yosaku.


Inquiries

Dance

Yokohama Tasogare

♪
〇

×
PALRO dances to the song

Yokohama Tasogare.


Inquiries

Dance

Sakeyo

♪
〇

×
PALRO dances to the song

Sakeyo.


Inquiries

Dance

Aisansan

♪
〇

×
PALRO dances to the song

Aisansan.


Inquiries

Dance

Jinsei iroiro

♪
〇

×
PALRO dances to the song

Jinsei iroiro.


Inquiries

Dance

Toki no Nagare ni Mi wo Makase

♪
〇

×
PALRO dances to the song

Toki no Nagare ni Mi wo Makase.


Inquiries

Dance

Yuyakekoyake

♪
〇

×
PALRO dances to the song

Yuyakekoyake.


Inquiries

Dance UFO♪

〇

×
PALRO dances to the song UFO.

Inquiries

Dance

Yume wo Kanaete DORAEMON

♪
〇

×
PALRO dances to the song

Yume wo Kanaete DORAEMON.


Inquiries

Dance

Shikuramen no Kaori

♪
〇

×
PALRO dances to the song

Shikuramen no Kaori.


Inquiries

Dance

Osakashigure

♪
〇

×
PALRO dances to the song

Osakashigure.


Inquiries

Dance

Kagomekagome

♪
〇

×
PALRO dances to the song

Kagomekagome.


Inquiries

Dance

Ginga Tetudo 999

♪
〇

×
PALRO dances to the song

Ginga Tetudo 999.


Inquiries

Dance

Ban Ban Ban

♪
〇

×
PALRO dances to the song

Ban Ban Ban.


Inquiries

Dance

Tentomushi no Samba

♪
〇

×
PALRO dances to the song

Tentomushi no Samba.


Inquiries

Dance

Koi no Dial 6700

♪
〇

×
PALRO dances to the song

Koi no Dial 6700.


Inquiries

Dance

Oyome ni Oide

♪
〇

×
PALRO dances to the song

Oyome ni Oide.


Inquiries

Dance

Natsu no Ojosan

♪
〇

×
PALRO dances to the song

Natsu no Ojosan.


Inquiries

Dance

Moshimo Piano ga Hiketanara

♪
〇

×
PALRO dances to the song

Moshimo Piano ga Hiketanara.


Inquiries

Dance

Medaka no Gakko

♪
〇

×
PALRO dances to the song

Medaka no Gakko.


Inquiries

Dance

Playback Part2

♪
〇

×
Part2PALRO dances to the song

Playback Part2


Inquiries

Dance

Neraiuchi

♪
〇

×
PALRO dances to the song

Neraiuchi.


Inquiries

Dance Arashi wo Yobu Otoko♪

〇

×
PALRO dances to the song

Arashi wo Yobu Otoko.


Inquiries

Dance

Hoshi Huru Machikado

♪
〇

×
PALRO dances to the song

Hoshi Huru Machikado.


Inquiries

Dance

Antagatadokosa

♪
〇

×
PALRO dances to the song

Antagatadokosa.


Inquiries

Dance

Drif no Zundokobushi

♪
〇

×
PALRO dances to the song

Drif no Zundokobushi.


Inquiries

Dance

Kampakusengen

♪
〇

×
PALRO dances to the song

Kampakusengen.


Inquiries

Dance

Sabiten no Hana

♪
〇

×
PALRO dances to the song

Sabiten no Hana.


Inquiries

Dance

Namidakun Sayonara

♪
〇

×
PALRO dances to the song

Namidakun Sayonara.


Inquiries

Dance

Azusa Nigou

♪
〇

×
PALRO dances to the song

Azusa Nigou


Inquiries

Dance

Tokyo Sabaku

♪
〇

×
PALRO dances to the song

Tokyo Sabaku.


Inquiries

Dance

Zuizuizukkorobashi

♪
〇

×
PALRO dances to the song

Zuizuizukkorobashi.


Inquiries

Dance

Candy

Candy

♪
〇

×
PALRO dances to the song

Candy

Candy.


Inquiries

Dance

Matsuri

♪
〇

×
PALRO dances to the song

Matsuri.


Inquiries

Dance

Sen no Kaze ni natte

♪
〇

×
PALRO dances to the song

Sen no Kaze ni natte.


Inquiries

Dance

Shonenjidai

♪
〇

×
PALRO dances to the song

Shonenjidai.

Released on Aug 07, 2018.
Inquiries

Dance

Funky Monkey Baby

♪
〇

×
PALRO dances to the song

Funky Monkey Baby.

Released on Aug 07, 2018.
Inquiries

Dance

Aoi Sangoshou

♪
〇

preinstall

PALRO dances to the song

Aoi Sangoshou.

Released on Jun 13, 2017.
Inquiries

Dance

Amairo no Kami no Otome

♪
〇

×
PALRO dances to the song

Amairo no Kami no Otome.

Released on Jun 13, 2017.
Inquiries

Dance

Oyoge! Taiyaki kun

♪
〇

×
PALRO dances to the song

Oyoge! Taiyaki kun.

Released on Jun 13, 2017.
Inquiries

Dance

Aoi Tori

♪
〇

×
PALRO dances to the song

Aoi Tori.

Released on Jun 13, 2017.
Inquiries

Dance

Ii Hi Tabidachi

♪
〇

×
PALRO dances to the song

Ii Hi Tabidachi.

Released on Jun 13, 2017.
Inquiries

Dance

Sotsugyou Shashin

♪
〇

×
PALRO dances to the song

Sotsugyou Shashin

Released on Mar 06, 2017.
Inquiries

Dance

Nagori Yuki

♪
〇

preinstall

PALRO dances to the song

Nagori Yuki.

Released on Mar 06, 2017.
Inquiries

Dance

Roman Hikou

♪
〇

×
PALRO dances to the song

Roman Hikou.

Released on Sep 01, 2016.
Inquiries

Dance

Gakuen Tengoku

♪
〇

×
PALRO dances to the song

Gakuen Tengoku.

Released on May 23, 2016.
Inquiries

Dance Kimi ga Irudakede

♪
〇

×
PALRO dances to the song

Kimi ga Irudakede.

Released on May 23, 2016.
Inquiries

Dance Tsugaru Kaikyo - Fuyugeshiki

♪
〇

preinstall

PALRO dances to the song

Tsugaru Kaikyo - Fuyugeshiki.

Released on May 23, 2016.
Inquiries

Dance Blue Light Yokohama

♪
〇

×
PALRO dances to the song

Blue Light Yokohama.

Released on May 23, 2016.
Inquiries

Dance Kawa no Nagare no Yoni

♪
〇

×

PALRO dances to the song

Kawa no Nagare no Yoni.

Released on May 23, 2016.
Inquiries

Dance Aa Jinsei ni Namida Ari

♪
〇

×
PALRO dances to the song

Aa Jinsei ni Namida Ari.

Released on May 23, 2016.
Inquiries

Dance Koi no Bakansu

♪
〇

preinstall
PALRO dances to the song

Koi no Bakansu.

Released on May 23, 2016.
Inquiries

Presentation play

〇
×
Using PowerPoint®, PALRO gives a presentation.
PALRO can read out the text and proceed through the pages as instructed.

価格 : 300,000円
Released on December 18, 2015.
Inquiries