People want to feel relaxed when they are talking.
Facing each other allows conversation to fl ow freely.
PALRO's appearance has been designed this way for a reason.


Tabletops are the ideal location for PALRO
When placed on a table, PALRO naturally looks up at the person it is speaking to.
PALRO's face is designed to be slightly below the natural line
of sight of the person it is talking to if they are sitting down.
Most people feel aff ection when they have to look
down to talk to someone.
PALRO has been designed so its face is near the
same level as a child's is when being held by an adult.
This position is said to create a feeling of security.
When placed on a table PALRO can also lift its
head by up to 45°, which allows it to look at
people who are standing too.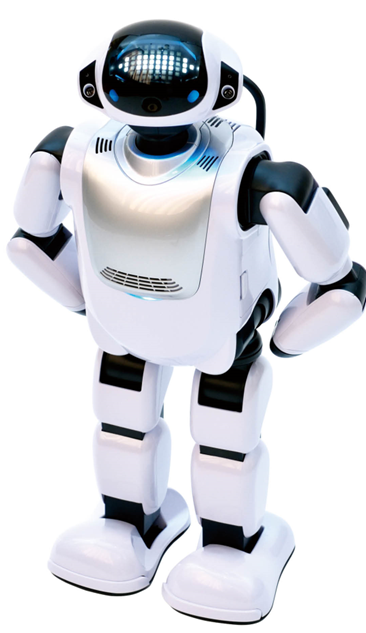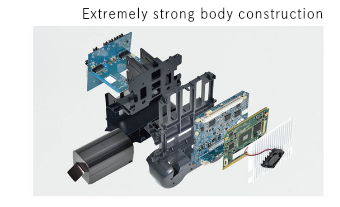 PALRO's body is light but tough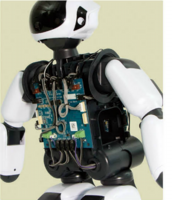 The chassis that forms the main part of PALRO is constructed from boxes with many ribs, and has been designed to reduce wasted space while ensuring that heat can dissipate. This makes PALRO both highly functional and tough. In terms of materials* PALRO uses ABS, which has good mechanical balance, for its main parts, and uses POM for parts that are exposed to large forces. To create an even simpler construction vital parts such as circuit boards and heat sinks also provide important strengthening, and help PALRO to be both light and tough.
* Plastics PALRO is made from
ABS (Acrylonitrile Butadiene Styrene)
A highly versatile plastic with good mechanical balance. It has a glossy surface that can be coated.
POM (Polyoxymethylene)
Used in joints that create friction repeatedly as it has good fatigue resistance, wear resistance, and sliding properties.
PC (Polycarbonate)
An amorphous, transparent plastic. It has extremely high shock resistance and is used for the transparent section of PALRO's face (stippling lens).